The Chautauqua Kindergarten
Drawing Board and Writing Desk
Photos and Story courtesy of Jan Woodhouse
Thank you very much for taking the time to construct your fabulous, informative Website. I live in Wales, Great Britain and I have today purchased a 'Chautauqua Kindergarten Drawing board and Writing Desk' at auction for my 1 year old grandson. This would appear to be an early version of the Industrial art desk. It converts from a free-standing blackboard into a writing desk. It is ornately carved & constructed of mahogany (except for the pine desk top). If you can tell me anything about my lucky (GBP8.00, US$12) purchase, I would be very grateful.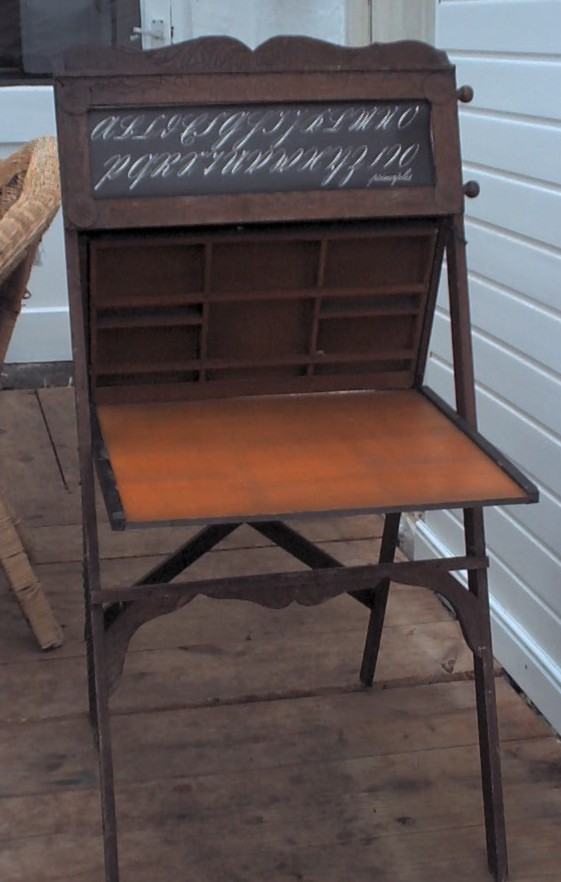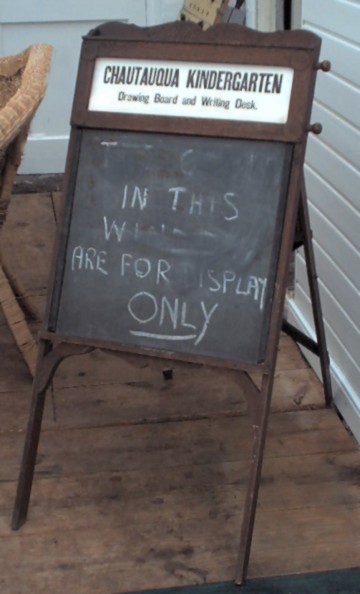 A sampling of scroll topics: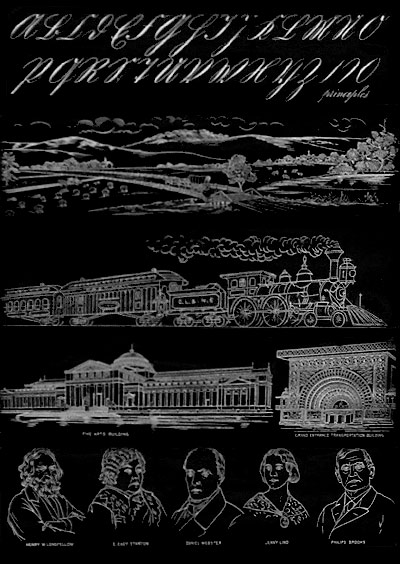 We have, left to right:
HENRY W LONGFELLOW
E CADY STANTON
DANIEL WEBSTER
JENNY LIND
PHILLIPS BROOKS


Very interesting set of heroes. We are familiar with Longfellow and Lind here in the UK but not the other three. The Bishop of Philadelphia and nonconformist preacher Phillip Brooks is very interesting as the Welsh miners who worked in PA were very nearly all nonconformist chapel-goers. Interesting, also, that all five have strong connections with the New York/Boston areas.

I have now had time to take a good look at the desk and unfortunately there are no manufacturers marks or labels. It is a fascinating item though, and there may be a few clues as to how it ended up in Cardiff. The story goes that Henry Longfellow once asked Charles Dickens why there were so many Scots & Welsh living in the USA, but few English. The reply was that Scotland was a nation of Doctors & Engineers, Wales a nation of Teachers & Miners and England a nation of Shopkeepers. There was more than a grain of truth in this, and during the period from 1850 until the Wall Street Crash, thousands of Welsh people worked in the North Eastern United States on year-long contracts in mining, teaching & erecting the long-distance telegraph/telephone system for Bell.

Even today, there is a saying used here in Wales~ 'I'm off to Philadelphia in the morning' (meaning- what I am doing and where I am going is my business, not yours). Children used to have 'Philadelphia Christmases'. That is to say that Christmas Day celebrations were put on hold until the bread-winner returned, loaded with gifts, from the States at the end of a year-long contract. I think that this desk was one of these gifts.
Questions? Consult our FAQ first.